Can a kettle alert friends and family that you are OK? 3rings thinks it can, and in this review we look at their plug in detail after a trial with 3 people whose combined age is nearly 270! Our conclusion is that if you live alone and want the reassurance of a watchful eye to make sure that you are up and about as normal, the 3rings plug could hardly be more straightforward. You plug the device into the socket used for the kettle and plug the kettle into it. A light blinks briefly to let you know it is active and then after a few minutes the light switches off and the 3rings plug just blends into the background – it could hardly be more simple or unobtrusive. During the trial the 3rings plug was used by 2 sprightly ninety-somethings and an octogenarian; all expressed reservations about how simple it would really be but all found it did just work and were very positive about their experience. In the background the plug tells 3rings when the kettle is switched on or off and 3rings tells the carers that everything is normal, or whether you have broken your routine.
If your routine is broken then all your carers are told at once and will be aware you have a problem until one of them has resolved the cause of the alert, when everyone will be told you are OK again. It sounds simple, is simple and even better, works well.
The rest of the review is more in-depth, for those who want to know the detail…
Getting Started with a 3rings plug
The 3rings plug feels solid, the connections are secure and do not wobble around and, as mentioned, for the person being monitored the set-up is literally as simple as plugging the device in.
The set-up for carers is more involved. After registering on the 3rings site the primary carer sets up a schedule of times when the appliance connected to the 3rings plug will normally be used (called 'events') and then invites others to join the care network for the household. Each carer has to accept the invitation & then set up their own contact details and preferences before getting updates and alerts. It is straightforward and a good overall design – if you are used to a smartphone or internet shopping, you will have no problems once you've worked out the nested-tabbed layout. One of the trialist-carers (herself nudging 70) had not installed an app on her phone before, but with a little support was confidently using the service within a couple of days on her phone and via the web-portal.
3rings Events and Alerts
Up to 4 periods of use can be scheduled and these can be set for any combination of day or week and time of day – which should cover most routines – with at least one usage window a day. Most people will be able to have 2: morning and evening. If the device is used during the event all carers get an information alert which serves to reassure them both that the loved one is OK and the service is working normally.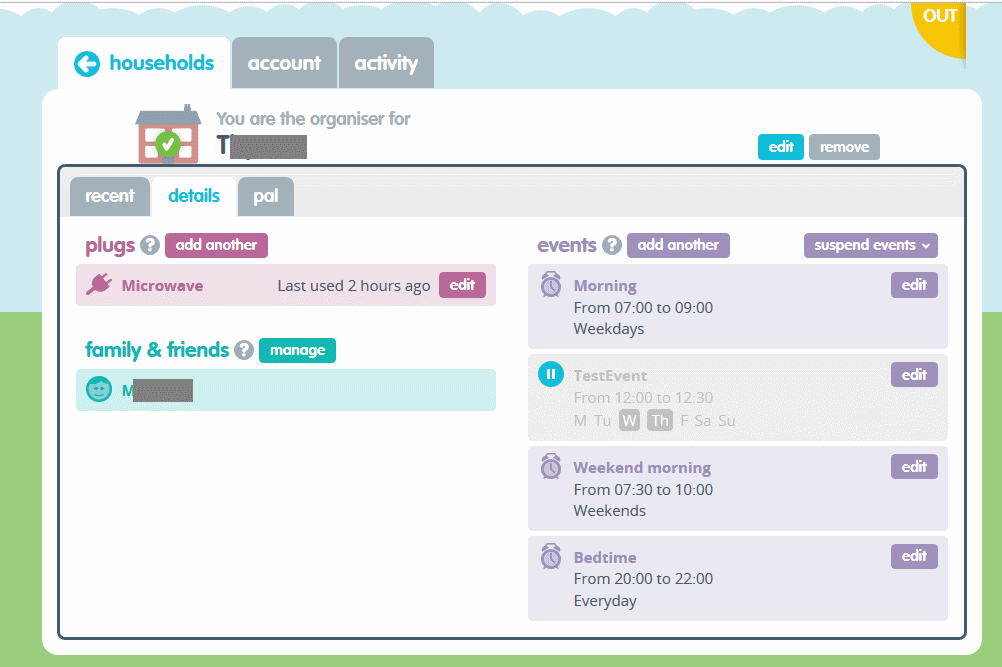 Up to 10 carers and 4 events can be set up. Events can be suspended individually or all at once. Multiple households can be managed so all loved ones can be looked after.
During the trial, once the novelty of everything working without fuss had worn off, the trialists and carers all wanted to see what happened if the daily routine was broken. Some did this in a planned way and others enjoyed triggering an alert and letting the carers track them down! In all cases 3rings sent alerts to the carers within a couple of minutes of the end of an event. The way the events are handled is 3rings' best feature and shows both great insight into the needs to carers.
Alerts are sent not just to the app and email but also to a phone as a text message or even to a phone line (mobile or fixed) as a recorded announcement. It makes it hard to miss an alert even if there is poor mobile coverage, or no internet signal, or if a neighbour doesn't have internet or a smartphone.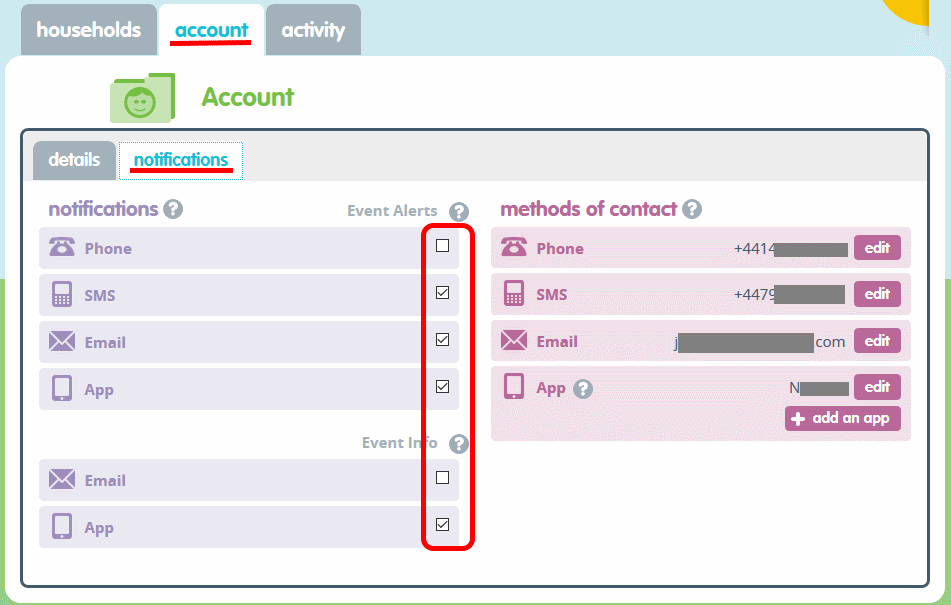 Notifications can be sent to a wide range of devices; each carer chooses how to be contacted. Some trialists found the nested-tabbed structure confusing at first.
Once received, the alert invites the carers to take responsibility for checking on their loved one. Pressing the "take responsibility" button allows them to send a brief message to all the carers, which can be as simple as "I'll call Mum". Once it's confirmed that everything is OK the responsible carer is then able to send another brief message so the other carers know what happened: "Mum rushed out without having a cup of tea this morning. All OK." This flow of information is brilliantly thought out, as it not only does the job of telling carers there is a problem but, more importantly, that everything is OK again.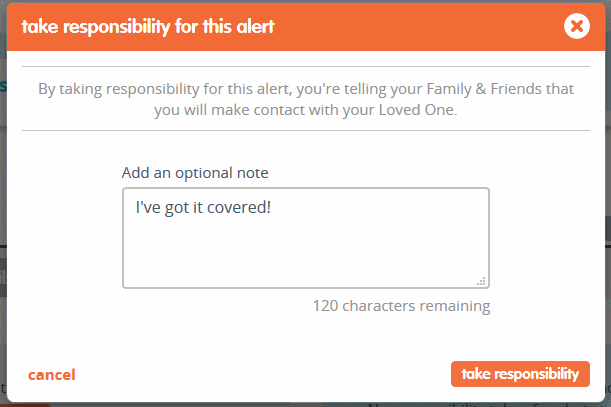 A brief message can be sent to other carers when responsibility is taken for an alert or it is resolved
If no-one takes responsibility for an alert, then reminders are sent at increasing intervals until someone responds. Responsibility can only be accepted on the web-portal or phone-app, so if a neighbour who doesn't have internet access is first to respond, they must contact one of the other carers to "take responsibility" for the alert via app or web.
If the loved one is away or out late then events can be suspended by the primary carer. Other carers are then notified of when the suspension begins or ends.
Who is 3rings for?
A big bonus for speed of getting started is that it doesn't rely on a home internet connection, so no other infrastructure is required or cost incurred. All that is required is an appliance like a kettle microwave or TV that is regularly used. You just plug the 3rings device in – it works for everyone who can get a mobile signal at home.
All three trialists lived alone but were otherwise active and healthy. One person with early-stage dementia was invited to join, but his family felt that as they called every morning to ensure medicines had been taken, 3rings wouldn't offer a benefit. All the trialists and carers felt that the insight that a loved one is up and about as normal without intrusive monitoring is a real bonus, especially if family is spread about the country. As illustrated in a review on the 3rings site here, it can also inform about decline and allow remedial action to be taken before a crisis.
The portal and app both support multiple plugs, so parents or loved ones in different households can be supported. In the trial I had 2 active households simultaneously and the layout and information was clear and worked well.
Does using technology to monitor a parent isolate the person further? In my experience over this trial, the answer is no. The device stimulated conversations – not just when setting up the schedule or when there were alerts, but also when suspending events because of a few days away or an evening out, and even about whether the loved one was drinking enough!
The 3rings plug uses mobile-phone signals to connect the 3rings portal. I tested in in places that I don't get a mobile data connection on my phone and it kept working because it uses whichever network provides the strongest signal, so if you are interested but concerned about the connection then it worth asking 3rings for a trial to check that their device works where it needs to for you.
What should I plug into my 3rings plug?
The typical appliance to use is the kettle but others were also tested. The only plug that didn't work was a multi-adapter for a TV, Smart TV box and other TV boxes. In this case the plug always registered as being on, although all the devices were in standby. Rearranging the plug so it was only connected to the TV sorted things out. A microwave also worked well – the clock and internal light were not enough to register as being on.
How much does a 3rings plug cost?
There are two parts to the cost, the initial purchase price and the running costs. The device itself costs £80 which is very competitive for an internet-connected plug as you only need the plug – no hub to connect it to and no broadband service. Running costs are £12/month or about 40p per day or a coffee-shop latte a week.
What would improve 3rings?
There is a lot to like about the simplicity of the plug as it is, but a few improvements would make it even better:
The app (android at least) is a bit buggy, not sure what causes it but it locked up more than once.
The app would also really benefit from the "pattern of active life" display that is available on the website. It shows usage and events in a graphical format & would be so useful on the phone.
A message when the device loses power would alert carers that it has been unplugged, switched off, or there has been a power cut.
Similarly, an indication that something is plugged into the device would be beneficial.
Setting the schedule manually is OK, but some smart-assistance to work out the normal times of usage would be really helpful; over time it may also be able to spot changes that people may not.
As 3rings has all the contact information for carers (which other carers cannot see), being able to message carers outside an alert would make it even better, especially if the care network extends beyond the family where the only common connection is the loved one.
As the primary carer for the trial I would have appreciated better search on the help pages. The Tour feature is great, most of the site is intuitive, and the help text covers most things – if you can find it. For example, I could not find out what 3rings "pal" stands for – although it is obviously a useful graphical presentation of the device usage. I eventually found out from a 3rings blog – "pattern of active life"
Conclusion
There is a lot to like about 3rings and I have no reservations in recommending it as a simple but effective monitor to check that a normally active loved one is up and about. It requires no special infrastructure, works very well for loved ones and carers and is a very cost-effective safety net for anyone living alone. It works not because the technology is robust (which it is), but because of the way it helps carers with a simple notification when everything is OK but persistent alerts when there might be a problem and informative messages to all carers as the problem is being solved. For many people 3rings will be not just enough but a bonus!